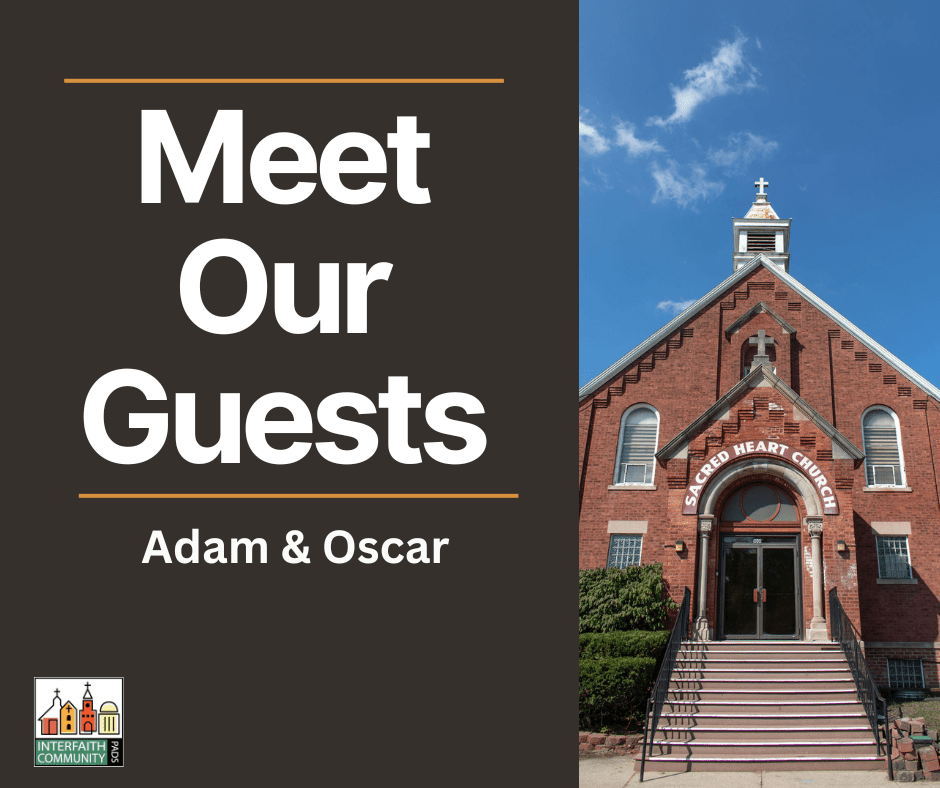 Hello again, and welcome back to our "Meet Our Guests" series! Today, we're excited to share some examples of the creative ways our team helps our guests–with valuable support from community partners. It's all about coming together to find solutions, one person at a time.
For more inspirational stories like these, check out our previous "Meet Our Guests" posts: Rita and Jimmy and Olivia and Steve. You can also get more heartwarming stories just like this in your inbox by signing up for our newsletter.
Now, let's meet Adam and Oscar!
---
For the body does not consist of one member but of many. (1 Corinthians 12:14)
---
Meet Adam
Adam came into our shelter about three weeks ago after losing his job and burning through his savings. He never caused any problems and always volunteered above and beyond what we asked. He attended every class we asked him to attend and completed every task put in front of him, all of this with a great attitude. He truly was a model guest.
This week, in our case manager's meeting about guests, I asked where Adam was applying to. I was told that he had a job offer, but it was out of state, and he was trying to figure it out himself. As a male, I can say…a typical male, not asking for help. I brought him into the meeting and started asking lots of questions. He produced paperwork showing he was offered $27 per hour with a $7,000 sign-on bonus, and orientation was one week away. Our team got to work.
Between case managers at Keys to Hope and myself, we started to price the cost of transportation along with lodging for two weeks. The bus fare was reasonable, $140, but the lodging was terrible. At this point, we started to think outside of the box. What if we got him a tent and found a local campground until his first paycheck? This still proved to be fruitless. On our third day, we started to knock on every door, calling the local Goodwill and Salvation Army for help or leads, and then we started calling the churches. Tammy from Keys to Hope found an organization in Chattanooga called Metropolitan Ministries, which was willing to house him for two weeks and loan him a bicycle for transportation. All of our prayers were answered.
Citizens Concerned for the Homeless and PADS split the cost of busing and money for food. Our friend Adam arrived in Tennessee this morning and starts work on Monday. Sometimes, you have to get more people involved, and if you're not knocking on every door, you're not trying hard enough. I want to thank our team for coming together to help Adam start a new life.
Meet Oscar
Oscar came to the shelter from the LaPorte County Sheriff's office, having just been released from the county jail on a simple misdemeanor charge. He was a super nice, very friendly gentleman who spoke no English. As we began to do our intake, we were scrambling to use translator apps on our phones to communicate both ways. Everyone was extremely patient, and Oscar was grateful to have a place to stay, even volunteering to help with chores. Over the next few days, I began contacting people to come in and translate. This was a tough task. Sometimes, the translator would have to cancel, and one time, Oscar was working as a last-minute fill-in laborer on a day job.
We had a translator come in last Friday. We all sat down and quickly found out that Oscar just wanted to go home. I thanked the translator (Carol Flores) and began to contact my team to find a way to get Oscar home to Monterrey, Mexico. I immediately contacted Ed Merrion, a friend of the shelter who had previously worked with the Catholic Diocese on immigration issues.
Ed connected with Oscar on Sunday, bringing Javier Miramontes to translate for him. They got more information from Oscar, making sure that he had a place to stay if they could get him transported.
On Monday, Ed reached out to me to get verification if Oscar was ready to go home. Oscar was very excited and ready. We went to empty Oscar's locker at the daytime resource center and stopped to grab some snacks for his 30-hour bus ride home. Ed and Javier picked Oscar up from the shelter and drove him to Chicago to board his bus.
All of this took teamwork and coordination. It started on a Friday evening, and by Monday evening, Oscar was on his way home. Often times we struggle to understand our clients even when there isn't a language barrier. We don't understand the pain they are going through. We don't understand how people in their lives have abused them. We don't understand what they are masking with their addiction. One of our hardest jobs is to find the right person to understand (translator) and connect with our clients. This time, we were able to help Oscar, and our teamwork came together.
My goal is to show the community what we do, who comes into our program, and how our team comes together to help. I want to thank everyone for donating to our program and caring for us.
Join Our Mission
The stories of Adam and Oscar show what happens when we all roll up our sleeves and tackle challenges together. We had a lot of help from individuals and community organizations, and we want to give them a shout-out for being there when it counted.
If you're touched by these stories and want to join our mission, consider becoming a monthly donor. Every bit helps to keep the good work going.
For more inspiring accounts, don't forget to check out our past "Meet Our Guests" posts about Rita and Jimmy and Olivia and Steve. And if you want these stories to come straight to your inbox, sign up for our newsletter.
Thank you for your ongoing support. With the help of individuals and community partnerships, we're solving challenges and changing lives, one person at a time.