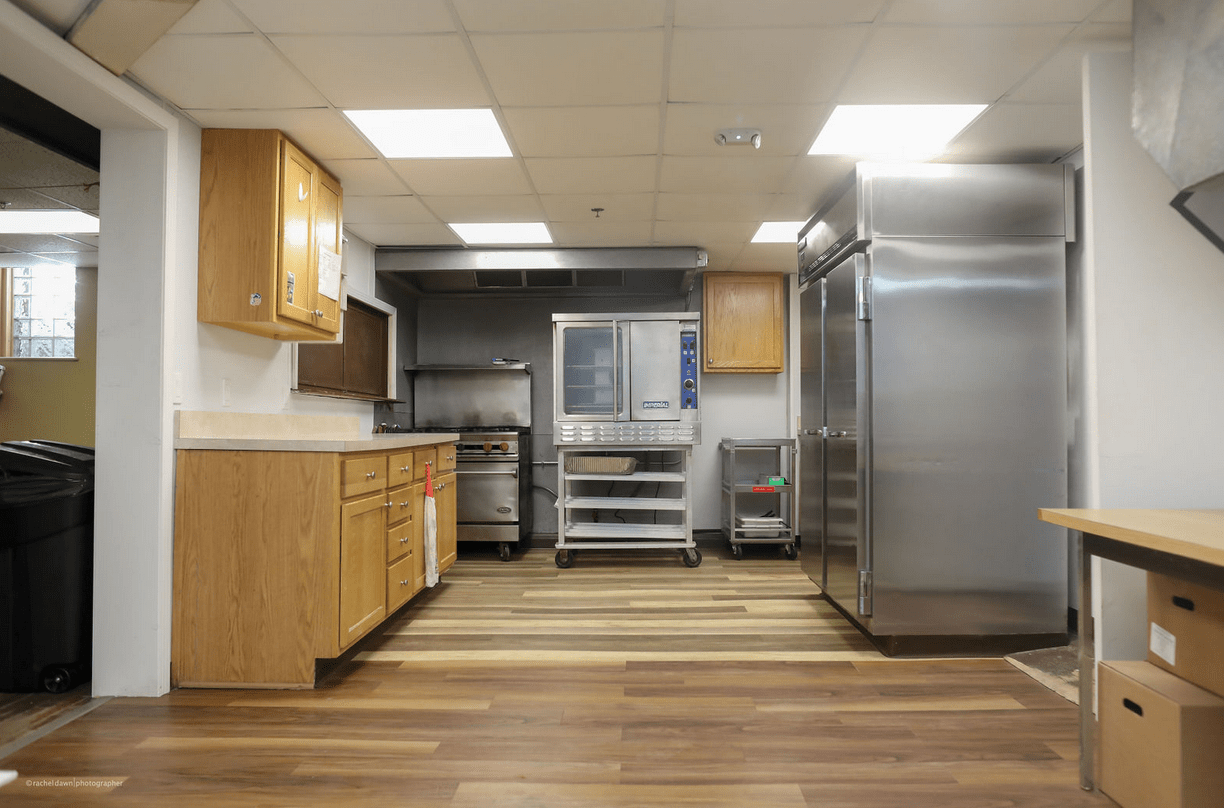 Did you know that so far in 2023, we have served almost 10,000 meals to guests at our shelter? Where does all that food come from? And what does it take to make it all happen? The answer to both questions is simple: COMMUNITY SUPPORT!
As we will show in this article, it takes the entire community to feed our guests every day. We will explain six ways Interfaith Community PADS gets food and what it takes to put together nutritious meals every day. But first…
An Important Caveat
An important factor in the food that we can accept at ICPADS is that any prepared food we receive must be made in commercial kitchens. These kitchens are regulated by local, state, and federal agencies, which ensures the safety and quality of the food. All of the organizations on our donor list that provide prepared food adhere to these regulations, including our own kitchen at ICPADS.
What this means is that we can happily accept both perishable and nonperishable items from individuals and groups, but we cannot accept food prepared in your home kitchen. For example, while we can take boxes of spaghetti noodles, jars of spaghetti sauce, and even fresh or frozen packaged ground beef, we cannot accept a pan of spaghetti that has been prepared in a home kitchen.
That being said, if you'd love to provide our guests with a spaghetti dinner (or another meal), we welcome you to use our commercial kitchen to prepare it! You'll learn more about that below.
---
Do not neglect to do good and to share what you have, for such sacrifices are pleasing to God. (Hebrews 13:16)
---
Partners in Providing
The food we serve comes from many sources in our community. Each contributes in a unique way, ensuring that our guests never go hungry.
Healthcare Facility Leftovers
Our local healthcare facility is a committed partner. Five days a week they share leftovers from their cafeteria and even prepare special pans for our guests in their commercial kitchen.
The Michigan City Salvation Army
Once a week, the Salvation Army prepares a meal in their commercial kitchen to give our guests a nutritious dinner.
Citizens Concerned for the Homeless (CCH) Food Rescue Program
Twice a week we receive food from the Food Rescue program. Fresh produce and other items nearing their expiration dates are donated by local stores, giving us a consistent supply of diverse and healthy foods.
Individuals and Groups
Individuals and church groups volunteer to come to our commercial kitchen and cook meals that are prepared with love and care. For example, one woman comes to our kitchen every month and makes 8 pans of brownies so our guests have a tasty dessert!
Donations and Food Drives
Community donations and food drives help stock our pantry and fridge. From packaged foods to fresh items like milk and fruit, these donations keep us going.
Monetary Donations
Monetary donations allow us to purchase food and fill in the gaps.
The Art of Meal Preparation
While we receive prepared and unprepared food items from various sources several days a week, it's up to us to create meals for our guests from the donated items. This process can feel like an episode of Chopped! Imagine using a pan of chicken, some freshly made soup, some leftover pasta, and whatever is available in our pantry at the moment to create a nutritious and delicious meal. That's the fun of meal planning and prep at ICPADS!
Do you love cooking and enjoy the occasional challenge? We're looking for a volunteer who can help us prepare meals on Mondays, Wednesdays, and Fridays from 2:30-4:30. If you're interested, contact us to learn more and get started.
In Conclusion: It Takes a Community
Feeding the homeless at ICPADS isn't the work of a single entity. It's a community effort that includes contributions from local organizations, individuals, groups, and our dedicated volunteers.
And there are many ways for you to get involved too! Consider helping us with food donations, monetary contributions, volunteering your time in our kitchen, or helping us prepare meals on a regular basis with our new "Food Prep" volunteer opportunity mentioned above. Every bit of support matters.
Finally, we want to express our heartfelt gratitude for the continued support of individuals, groups, and organizations in our community. We appreciate the time, money, and resources you donate to help us feed our guests every day. We've served nearly 10,000 meals and counting so far in 2023, and it is all thanks to you!